Robotic welding (multi-layer multi-pass)
1.Brief description of the equipment Suitable for welding the connecting rod of hydraulic support in the coal machinery industry, the use of flexible fixture with hydraulic top tightening mechanism, to achieve a variety of connecting rod models common, convenient and quick to load the card, centered positioning, accurate positioning; using the robot's external axis as a displacement machine drive, and robot coordination linkage, and with the arc tracking system, ** multi-layer multi-pass welding technology**, so that the automatic welding rate of connecting rod The welding seam is well formed and the flaw detection rate is high, which greatly improves the production operation efficiency.
2. Applicable workpiece specifications Rod length: 1~2.8m
3. Operation process 1 Preparation: turn on the machine, open the gas cylinder and reset the equipment; 2 Piece loading: manually lift and load the connecting rod onto the fixture; 3 Program selection: select the corresponding welding program on the robot demonstrator; 4 Welding: start arc welding.
Equipment features 1 flexible fixture, applicable to a variety of connecting rod models, easy to adjust, quick to mount; 2 robot with external axis for welding operations, all welds are in the flat welding position, the weld is well formed; 3 with arc tracking, multi-layer multi-pass welding technology, can adjust the deviation of the weld in time, automatically complete the weld filler layer, cover layer; 4 with water-cooled welding power, water-cooled welding gun, can bear high current welding, greatly improve the welding production efficiency; 5 with gas pressure detection function, when the gas pressure is insufficient equipment alarm and stop welding.
5. 3D equipment diagram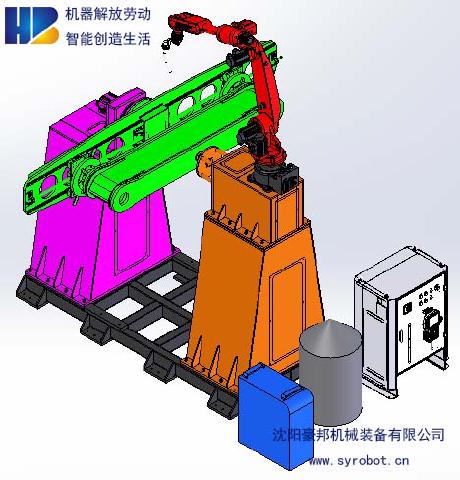 6. Customer site pictures
7. Equipment site video video link
8. This equipment can be custom designed and manufactured according to customers' needs.
9. Customer Case Shenyang Sany Heavy Equipment