Robot loading and unloading (stamping parts)
Equipment Introduction
Loading and unloading robots that can replace manual loading and unloading of parts for presses. Improves efficiency and reduces production safety accidents.
Process Flow
Process 1: The worker mounts the fixture for the workpiece to be machined onto the robot end head.
Process 2:Workers placing workpieces on the raw material table.
Process 3:The worker starts the automated line and selects the appropriate type of workpiece.
Process 4:The worker activates the workpiece-assisted positioning device and then starts the robot working.
Process 5:the robot picks up a workpiece with a suction cup, goes to the workpiece auxiliary positioning device for positioning, then places it on the press, the robot leaves and the press works, while the robot goes to the raw material table to pick up another workpiece and position it.
Process 6:After the punching machine finishes its work, the robot grabs the punched workpiece with the free suction cup, rotates the sixth axis, puts the new workpiece on the punching machine, the robot leaves, and the punching machine works, while the robot returns the punched workpiece to the table and grabs the new workpiece.
Process 7:Repeat process 5 and process 6 until a stop command is given manually, the robot returns to the home position, the press stops working, and waits for the next start command.
Equipment Site Photos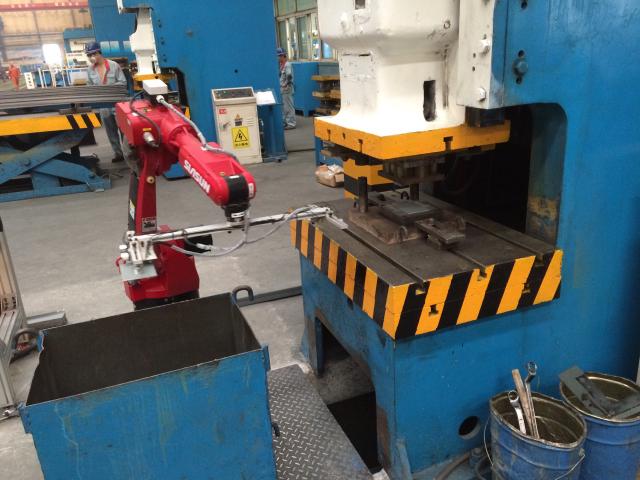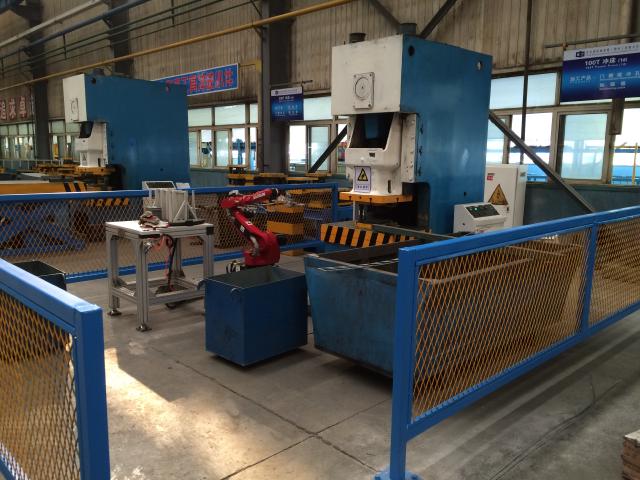 Equipment Video
This equipment can be custom designed and manufactured according to customer needs.